Postoperative condition of patients as a result of treatment of inguinal hernias by laparoscopic and open methods
Keywords:
inguinal hernia, laparoscopy, open access surgery, analysis of methods, operation
Abstract
Purpose – to analyze condition of patients after surgical treatment of inguinal hernias by laparoscopic and open methods.
Materials and methods. A retrospective review of medical histories and outpatient charts of all patients who underwent inguinal hernia surgery at the Kyiv City Clinical Hospital No. 1 from January 2018 to July 2020 was conducted.
Results. During the above period of time in our hospital open hernioplasty was performed in 86 patients, laparoscopic hernioplasty – 138 patients. With open hernioplasty, the average duration of surgical treatment was 40±12 minutes. The laparoscopic technique was 35±12 minutes. The length of hospital stay was significantly longer in the group of patients with the open method (48±12 hours) than in the group of laparoscopic plastic surgery (12±3 hours). From the group of patients who underwent open hernioplasty, 62 patients complained of long-term pain syndrome, from the group of laparoscopy – 12 patients. The cosmetic appearance was dissatisfied with 34 patients in the open access group and only 2 patients in the laparoscopic plastic group. Postoperative complications were observed in 34 patients who underwent surgical treatment through open access, and in 15 patients – by laparoscopy.
Conclusions. The laparoscopic approach of inguinal hernia surgery is superior to open access, as it reduces the length of hospital stay, postoperative recovery, improves the aesthetic effect of the operation, reduces the frequency of infection of incisions. According to the results of the study, this technique gives a better result in the early postoperative period, a lower percentage of chronic pain and a higher degree of patient satisfaction compared to open access with the same low recurrence rate. Therefore, in our opinion, laparoscopic access to hernioplasty is the optimal method of treatment and can be recommended as a method of choosing inguinal hernia surgery. Postoperative assessment of the quality of life of patients after treatment of inguinal hernia by laparoscopic and open methods.
The research was carried out in accordance with the principles of the Helsinki declaration. The study protocol was approved by the Local ethics committee of all participating institution. The informed consent of the patient was obtained for conducting the studies.
No conflict of interest was declared by the authors.
References
Aasvang EK, Gmahle E, Hansen JB et al. (2010). Predictive risk factors for persistent postherniotomy pain. Anesthesiology. 112: 957-969. https://doi.org/10.1097/ALN.0b013e3181d31ff8; PMid:20234307
Bergman S, Feldman L. (2009). 28 Inguinal hernia repair. In: ACS Surgery: Principles and Practice. BC Decker Inc: 1-22.
Burcharth J, Andresen K, Pommergaard HC, Bisgaard T, Rosenberg J. (2014). Direct inguinal hernias and anterior surgical approach are risk factors for female inguinal hernia recurrences. Langenbecks Arch Surg. 399: 71-76. https://doi.org/10.1007/s00423-013-1124-z; PMid:24077676
Davies DA, Rideout DA, Clarke SA. (2020). The international pediatric endosurgery group evidence-based guideline on minimal access approaches to the operative management of inguinal hernia in children. J Laparoendosc & Adv Surg Tech. 30 (2): 221-227. https://doi.org/10.1089/lap.2016.0453; PMid:28140751
Esposito C, St Peter SD, Escolino M, Juang D, Settimi A, Holcomb GW. (2014). Laparoscopic versus open inguinal hernia repair in pediatric patients: a systematic review. J Laparoendosc Adv Surg Tech A. 24: 811-818. https://doi.org/10.1089/lap.2014.0194; PMid:25299121
Feng S, Zhao L, Liao Z, Chen X. (2015). Open versus laparoscopic inguinal herniotomy in children: a systematic review and meta-analysis focusing on postoperative complications. Surg Laparosc Endosc Percutan Tech. 25: 275-280. https://doi.org/10.1097/SLE.0000000000000161; PMid:26018053
Kingsnorth A, LeBlanc K. (2003, Nov 8). Hernias: inguinal and incisional. Lancet. 362 (9395): 1561-1571. https://doi.org/10.1016/S0140-6736(03)14746-0
O'Reilly EA, Burke JP, O'Connell PR. (2012). A meta-analysis of surgical morbidity and recurrence after laparoscopic and open repair of primary unilateral inguinal hernia. Ann Surg. 255: 846-853. https://doi.org/10.1097/SLA.0b013e31824e96cf; PMid:22470068
Rusak P, Rybalchenko V, Akmolaev D, Zaremba V, Shevchuk D, Stefanishin M. (2011). Endoscopic treatment of inguinal hernias in children. Surgery of Ukraine. 3 ((39)1): 4-5.
Sevonius D, Gunnarsson U, Nordin P, Nilsson E, Sandblom G. (2011). Recurrent groin hernia surgery. Br J Surg. 98: 1489-1494. https://doi.org/10.1002/bjs.7559; PMid:21618495
Zannoni M, Luzietti E, Viani L, Nisi P, Caramatti C, Sianesi M. (2014). Wide resection of inguinal nerves versus simple section to prevent postoperative pain after prosthetic inguinal hernioplasty: our experience. World J Surg. 38: 1037-1043. https://doi.org/10.1007/s00268-013-2363-4; PMid:24271696
Zhou X, Qi X, Jiang B, Sha Y, Song D. (2017). Transumbilical endoscopic technique for complete closure of inguinal hernias in female pediatric patients. Exp Ther Med. 13 (1): 41-44. https://doi.org/10.3892/etm.2016.3919; PMid:28123465 PMCid:PMC5245140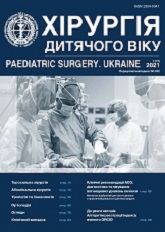 Downloads
Section
Original articles. Abdominal surgery
License
The policy of the Journal "PAEDIATRIC SURGERY. UKRAINE" is compatible with the vast majority of funders' of open access and self-archiving policies. The journal provides immediate open access route being convinced that everyone – not only scientists - can benefit from research results, and publishes articles exclusively under open access distribution, with a Creative Commons Attribution-Noncommercial 4.0 international license(СС BY-NC).
Authors transfer the copyright to the Journal "PAEDIATRIC SURGERY.UKRAINE" when the manuscript is accepted for publication. Authors declare that this manuscript has not been published nor is under simultaneous consideration for publication elsewhere. After publication, the articles become freely available on-line to the public.
Readers have the right to use, distribute, and reproduce articles in any medium, provided the articles and the journal are properly cited.
The use of published materials for commercial purposes is strongly prohibited.