The results of complex treatment of patients with Jaffe–Campanacci syndrome
Keywords:
Jaffe–Campanacci syndrome, bone deformities, drug therapy, bisphosphonates, pamidronic acid medications, corrective osteotomies, metal osteosynthesis
Abstract
Patients with Jaffe–Campanacci syndrome have orthopedic pathology, the leading symptoms of which are bone pain, their axial deformation, disorders of bone tissue and its metabolism. The issues of surgical interventions related to axial deformities and pathological bone fractures, as well as drug antiosteoporotic therapy aimed at correcting changes in the structural and functional state of bone tissue in this disease, are insufficiently studied and need improvement.
The aim is to improve ortopedic treatment of patients with Jaffe-Campanacci syndrome to reduce their pain, improve the condition of bone tissue and its metabolism.
Materials and methods. In the department of pediatric traumatology and orthopedics of the State Institution «Institute of Traumatology and Orthopedics of the National Academy of Medical Sciences of Ukraine» in the period 2015–2020, 9 patients with Jaffe-Campanacci syndrome (with a tibial lesion – 8 cases, with a liquid bone lesion – 1 case) were used for research, which were carried out for the treatment of pathologies of the musculoskeletal system: drug anti-osteoporotic therapy, in particular, with the use of anti-resorbents (drugs – pamidron) 5 requests; surgical method of treatment – in 8 methods – prophylactic metal osteosynthesis of bone lesions or the use of osteotomies using. Age of patients varied from 6 to 12 years. Analysis of the results of orthopedic treatment based on assessments using a larger syndrome using a visual analog scale, improvement of bone tissue and its metabolism in the study of bone mineral density and markers of bone metabolism at the beginning and during treatment; the correction degree of the bone deformation and the restoration of the limb axis.
Results. The substantiation, general principles and features of orthopedic treatment of patients with Jaffe–Campanacci syndrome are given, which included: anti-osteoporotic therapy – indications and contraindications; calculation of doses and schemes of application of these or those drugs, including from group of bisphosphonates; surgical treatment – indications and contraindications, features of technical performance of surgical prophylactic and corrective osteotomies with, application of advanced intramedullary telescopic metal structures.
This drug therapy has been successfully tested in 4 patients with Jaffe–Campanacci syndrome. The success of the treatment was confirmed by the reduction/elimination of pain, stopping the progression of pathological foci in the bones of the lower extremities, improving the structural condition of bone tissue and its metabolism. Analysis of the surgical treatment indicated its satisfactory results in all 8 operated patients with Jaffe–Campanacci syndrome – achieved fusion and correction of the limb axis after corrective osteotomies, restored capacity, no recurrence of bone deformity and progression of pathological foci.
Conclusions. The results of complex orthopedic treatment of patients with Jaffe–Campanacci syndrome indicate the feasibility of its use, as evidenced by the elimination / reduction of pain, improving the structural condition of bone tissue and its metabolism, stopping disease progression, achieving healing after corrective osteotomies in all cases, elimination of patients' axial deformities, improving of walking and moving abilities.
The study was conducted in accordance with the principles of the Declaration of Helsinki. The research protocol was approved by the Local Ethics Committee of the institutions mentioned in the work. Parental informed consents were obtained for the study.
The authors declare no conflict of interest.
References
Anwar Hau M, Fox EJ, Cates JM, Brigman BE, Mankin HJ. (2002, May). Jaffe-Campanacci syndrome a case report and review of the literature the journal of bone and joint surgery, incorporated.
Campanacci M, Laus M. (1983, Nov). Boriani multiple nonossifying fibromata with extraskeletal anomalies: a new syndrome? The journal of bone and joint surgery. 65-b: 5. https://doi.org/10.1302/0301-620X.65B5.6643569; PMid:6643569
Fechner RE, Mills SE. (1993). Atlas of tumor pathology: tumors of the bone and joints. Fascicle 8, 3rd series. Washington DC: Armed Forces Institute of Pathology: 145-150.
Jaffe H, Lichtenstein Louis. (1941). Non-osteogenic fibroma of bone, american journal of pathology: 18.
Javaid MK, Boyce A, Appelman-Dijkstra N, Ong J et al. (2019). Best practice management guidelines forfibrous dysplasia/McCune-Albrightsyndrome: a consensus statement from theFD/MAS international consortium. Orphanet Journal of Rare Diseases. 14: 139. https://doi.org/10.1186/s13023-019-1102-9; PMid:31196103 PMCid:PMC6567644
Meier ME, van der Bruggen W, van de Sande MAJ, Appelman-Dijkstra NM. (2021, Apr). Regression of fibrous dysplasia in response to denosumab therapy: A report of two cases. Bone Reports. 14: 101058. https://doi.org/10.1016/j.bonr.2021.101058; PMid:33912627 PMCid:PMC8066421
Shaji G, Menezes RJ. (2021, Mar). Symptomatic Nonossifying Fibroma: Is Prophylactic Fixation Warranted? Journal of Orthopaedic Association of South Indian States. 17; 2: 71-76. doi 10.4103/joasis.joasis_4_21.
Snetkov AI, Berchenko GN, Nechvolodova OL, Savkina LF. (1998). Diagnostika osteofibroznoy displazii u detey. Vestnik travmatologii i ortopedii im. N.N. Priorova. 1: 31-33.
Tripathy SK, Swaroop S, Velagada S, Priyadarshini D, Das RR, Satpathy AK, Kanhaiyalal A. (2020). Response to Zoledronic Acid Infusion in Children With Fibrous Dysplasia Frontiers in Pediatrics. 8: 582316. https://doi.org/10.3389/fped.2020.582316; PMid:33330278 PMCid:PMC7732464
Vannelli S, Buganza R, Runfola F, Mussinatto I, Andreacchio A, Sanctis L. (2020). Jaffe-Campanacci syndrome orneurofibromatosis type 1: a case report ofphenotypic overlap with detection of NF1gene mutation in non-ossifying fibroma Italian Journal of Pediatrics. https://doi.org/10.1186/s13052-020-0813-9; PMid:32393377 PMCid:PMC7216375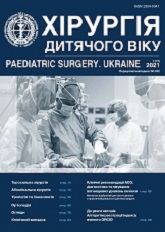 Downloads
Section
Original articles. Orthopedics
License
The policy of the Journal "PAEDIATRIC SURGERY. UKRAINE" is compatible with the vast majority of funders' of open access and self-archiving policies. The journal provides immediate open access route being convinced that everyone – not only scientists - can benefit from research results, and publishes articles exclusively under open access distribution, with a Creative Commons Attribution-Noncommercial 4.0 international license(СС BY-NC).
Authors transfer the copyright to the Journal "PAEDIATRIC SURGERY.UKRAINE" when the manuscript is accepted for publication. Authors declare that this manuscript has not been published nor is under simultaneous consideration for publication elsewhere. After publication, the articles become freely available on-line to the public.
Readers have the right to use, distribute, and reproduce articles in any medium, provided the articles and the journal are properly cited.
The use of published materials for commercial purposes is strongly prohibited.