The first experience in stapled longitudinal tapering enteroplasty in three month old child with ileal atresia in ukraine
Keywords:
intestinal atresia, longitudinal tapering enteroplasty, stapled enteroplasty, surgical treatment
Abstract
Introduction. Dilation of proximal intestinal segment, in relation to atresia, not only creates difficulties in application of anastomosis, but also leads to disturbance of its peristaltic activity. Functional obstruction of this intestinal part is the cause of chronic malabsorption, small intestinal bacterial overgrowth and sepsis, which cannot be managed with non-surgical treatment.
Case report. The presence of jejuno-ileal obstruction in child was diagnosed prenatally. On the 3rd day of life laparotomy with resection of the proximal and distal blind ending ileum and end-to-end anastomosis were conducted. Postoperative course was complicated by partial intestinal obstruction. 20 days after the first operation, relaparotomy with adhesiolysis and appendicostomy were performed, to decompress the dilated proximal ileum a tube was placed in it through the appendicostomy above the anastomosis. After the tube displacement partial intestinal obstruction was restored. 22 days after the second operation repeated relaparotomy with resection of the anastomosis and Mikulicz's enterostomy were performed. For further treatment at the age of 2 months the child was referred to the department of surgical correction of birth defects in children at the SI «Institute of Pediatrics, Obstetrics and Gynecology named after academician O. Lukyanova of the National Academy of Medical Sciences of Ukraine». The enterostomy closure with end-to-side anastomosis were performed. To resolve the functional intestinal obstruction stapled longitudinal tapering enteroplasty of dilated ileum was utilized. Thus, conducted surgical management allowed restoring the normal intestinal passage and reaching of complete enteral feeding.
Conclusion. Stapled longitudinal tapering enteroplasty is the feasible surgical approach to management of intestinal dilatation and its functional obstruction in intestinal atresia, is associated with enhanced functional results along with operation time reduction and can be safely utilized in children.
References
Sliepov OK, Migur MYu, Juravel AO. (2017). Risk factors and their influence on surgical results of congenital jejunoileal obstruction in infants. Perinatologiya i pediatriya. 2(70):108–112. https://doi.org/10.15574/PP.2017.70.108
Sliepov O, Migur M, Ponomarenko O, Gladishko O, Markevich H. (2018). Longitudinal enteroplasty as a method of primary treatment in newborns with proximal jejunal atresia. Paediatric Surgery. Ukraine. 4(61):87–92. https://doi.org/10.15574/PS.2018.61.87
Sliepov O, Migur M, Soroka V. (2017). Surgical treatment of congenital jejunoileal obstruction in newborns. Paediatric Surgery. Ukraine. 2 (55):70–75. https://doi.org/10.15574/PS.2017.55.70
Di Franco F, Adedeji OA, Varma JS. (2002). Recurrent megajejunum in an adult. J R Soc Med. 95(7):361–2. https://doi.org/10.1258/jrsm.95.7.361; PMid:12091514 PMCid:PMC1279944
Ein SH, Kim PC, Miller HA. (2000). The late nonfunctioning duodenal atresia repair – a second look. J Pediatr Surg. 35:690–1. https://doi.org/10.1053/jpsu.2000.6007; PMid:10813325
Hukkinen M, Kivisaari R, Koivusalo A et al. (2017). Risk factors and outcomes of tapering surgery for small intestinal dilatation in pediatric short bowel syndrome. J Pediatr Surg. 52 (7):1121–27. https://doi.org/10.1016/j.jpedsurg.2017.01.052; PMid:28185632
Lodwick D, Dienhart M, Ambeba E et al. (2016). Accuracy of radiographic estimation of small bowel dimensions in pediatric patients with short bowel syndrome. J Pediatr Surg. 51 (6):953–6. https://doi.org/10.1016/j.jpedsurg.2016.02.059; PMid:26995513
Masumoto K, Suita S, Nada O et al. (1999). Abnormalities of enteric neurons, intestinal pacemaker cells, and smooth muscle in human intestinal atresia. J Pediatr Surg. 34(10):1463–8. https://doi.org/10.1016/S0022-3468(99)90104-5
Takahashi A, Tomomasa T, Suzuki N et al. (1997). The relationship between disturbed transit and dilated bowel, and manometric findings of dilated bowel in patients with duodenal atresia and stenosis. J Pediatr Surg. 32:1157–60. https://doi.org/10.1016/S0022-3468(97)90674-6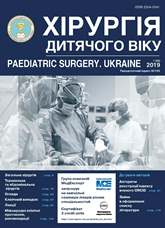 Downloads
Section
Original articles. Thoracic and abdominal surgery
License
The policy of the Journal "PAEDIATRIC SURGERY. UKRAINE" is compatible with the vast majority of funders' of open access and self-archiving policies. The journal provides immediate open access route being convinced that everyone – not only scientists - can benefit from research results, and publishes articles exclusively under open access distribution, with a Creative Commons Attribution-Noncommercial 4.0 international license(СС BY-NC).
Authors transfer the copyright to the Journal "PAEDIATRIC SURGERY.UKRAINE" when the manuscript is accepted for publication. Authors declare that this manuscript has not been published nor is under simultaneous consideration for publication elsewhere. After publication, the articles become freely available on-line to the public.
Readers have the right to use, distribute, and reproduce articles in any medium, provided the articles and the journal are properly cited.
The use of published materials for commercial purposes is strongly prohibited.