Methods of treating jaw cysts in children. Retrospective analysis
Keywords:
tumor-like neoplasms, cystotomy, cystectomy, children, jaw
Abstract
Odontogenic cysts of the jaws are one of the most common tumour-like neoplasms of the maxillofacial region in children. Today, there are various methods of treating cysts, but in childhood, the problem of choosing a treatment method is relevant and at the same time difficult, as some authors prefer cystectomy, while others prefer cystotomy.
Purpose - to analyze the methods of treatment and management of jaw cysts in children depending on the type of cyst.
Materials and methods. A retrospective analysis of 286 case histories of patients with jaw cysts aged 4 to 17 years was performed. The case histories were analysed according to the developed examination chart.
Results. A retrospective analysis of 286 case histories of children with jaw cysts was performed. The age of the children ranged from 4 to 18 years. Radicular dentoalveolar cysts were diagnosed in 35% (n=100) of cases, radicular cysts - in 36% (n=104), follicular cysts - in 15% (n=43), suppurative cysts - in 5% (n=14), residual cysts - in 5% (n=14), primary bone cysts - in 3% (n=7), polycystic cysts - in 2% (n=4). Cystotomy was performed in the vast majority of cases - 58% (n=166), cystectomy - in 42% (n=120). Tamponade was performed in 63% (n=181) of cases, and in 37% (n=105) it was not performed.
Conclusions. Radicular cysts are the most common odontogenic cysts of the jaws. Cystotomy and cystectomy are variable methods of cyst treatment. The most common method of treating cysts in children is cystotomy.
The research was carried out in accordance with the principles of the Helsinki Declaration. The study protocol was approved by the Local Ethics Committee of the participating institution. The informed consent of the patient was obtained for conducting the studies.
No conflict of interests was declared by the authors.
References
Ahmed T, Kaushal N. (2022). Treatment of Radicular Cyst with Marsupialization in Children: Report of Two Rare Cases. Int J Clin Pediatr Dent. 15 (4): 462-467. https://doi.org/10.5005/jp-journals-10005-2416; PMid:36875979 PMCid:PMC9983585
Bilodeau EA, Hunter KD. (2021, Mar). Odontogenic and Developmental Oral Lesions in Pediatric Patients. Head Neck Pathol. 15 (1): 71-84. https://doi.org/10.1007/s12105-020-01284-3; PMid:33723756 PMCid:PMC8010029
Hadziabdic N, Balic A, Cengic E, Katana E, Duratbegovic D, Salcin EL. (2023). A Large Dentigerous Cyst in a Child as a Complication of Deciduous Molar Endodontic Treatment: An Interesting Case Report with Short Literature Review. Case Rep Dent. 2023: 4406854. Published online 2023 May 8. https://doi.org/10.1155/2023/4406854; PMid:37197380 PMCid:PMC10185418
Kajjari S, Gowtham A, Meharwade P, Uppin C, Hugar SM. (2021 May-Jun). Infected Radicular Cyst of Deciduous Second Molar Mimicking Dentigerous Cyst of Second Premolar in a Young Child: A Rare Entity. Int J Clin Pediatr Dent. 14 (3): 434-437. https://doi.org/10.5005/jp-journals-10005-1954; PMid:34720521 PMCid:PMC8543986
Mahfuri A Sr, Darwich K Sr, Al Manadili A Sr. (2022, Jul 27). Marsupialization of a Large Dentigerous Cyst in the Mandible: A Case Report. Cureus. 14 (7): e27340. PMID: 36043005; PMCID: PMC9415736. https://doi.org/10.7759/cureus.27340
McKinney SL, Lukes SM. (2021, Oct). Dentigerous cyst in a young child: a case report. Can J Dent Hyg. 55 (3): 177-181.
Patel M, Schultz K, Rosenfeld E. (2022, Dec). The earliest known reported occurrence of dentigerous cyst in a six-month-old child. Int J Oral Maxillofac Surg. 51 (12): 1535-1537. https://doi.org/10.1016/j.ijom.2022.06.014; PMid:35871878
Rajae EG, Karima EH. (2021, Nov 10). Dentigerous cyst: enucleation or marsupialization? (a case report). Pan Afr Med J. 40: 149. doi: 10.11604/pamj.2021.40.149.28645. PMID: 34925684; PMCID: PMC8654877.
Rajendra Santosh AB. (2020, Jan). Odontogenic Cysts. Dent Clin North Am. 64 (1): 105-119. Epub 2019 Oct 18. https://doi.org/10.1016/j.cden.2019.08.002; PMid:31735221
Tandon P, Shah S, Dadhich A, Saluja H, Chauhan H. (2020, Jan-Mar). Incidence and Distribution of Jaw Pathologies among 0-15 Years Age Group at a Tertiary Rural Health-Care Center of Maharashtra: A Retrospective Study of 10 Years. Contemp Clin Dent. 11 (1): 39-45. https://doi.org/10.4103/ccd.ccd_328_18; PMid:33110307 PMCid:PMC7580751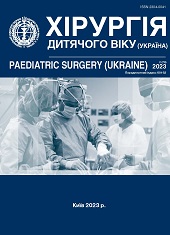 Downloads
Section
Original articles. Maxillofacial surgery
License
Copyright (c) 2023 Paediatric Surgery (Ukraine)
This work is licensed under a Creative Commons Attribution-NonCommercial 4.0 International License.
The policy of the Journal "PAEDIATRIC SURGERY. UKRAINE" is compatible with the vast majority of funders' of open access and self-archiving policies. The journal provides immediate open access route being convinced that everyone – not only scientists - can benefit from research results, and publishes articles exclusively under open access distribution, with a Creative Commons Attribution-Noncommercial 4.0 international license(СС BY-NC).
Authors transfer the copyright to the Journal "PAEDIATRIC SURGERY.UKRAINE" when the manuscript is accepted for publication. Authors declare that this manuscript has not been published nor is under simultaneous consideration for publication elsewhere. After publication, the articles become freely available on-line to the public.
Readers have the right to use, distribute, and reproduce articles in any medium, provided the articles and the journal are properly cited.
The use of published materials for commercial purposes is strongly prohibited.